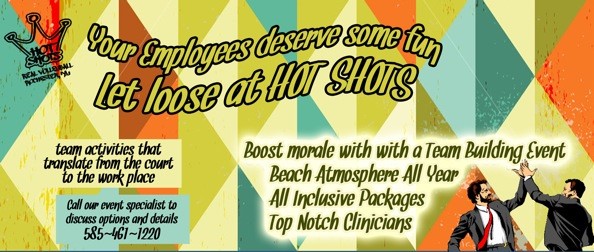 Hot Shots offers programs that will give your business a boost. Our programs are designed to involve everyone. The key ingredient for any team or office is communication. A successful volleyball team needs to communicate with each other at all times. The next step is for them to understand what everyone's role is on the court. While they may have their own specialty, they are better in tune if they know what is expected of each other.
Our program will help your staff understand and respect what their co-workers do. Undoubtedly they have their own jobs to do, because that is what they do best, but they will have more respect for each other if they see how important it is to work together.
Beach volleyball will be the vehicle we use to educate your staff. During the day they will receive a team T-shirt, a buffet lunch and instruction from the best volleyball players around. The drills used are designed so that the students have to rely on each other to ensure success. If everyone works together they achieve success, if they don't, the drills fall apart. At the end of the day this is all tied together and related to how they can achieve success in the office. It is simple and to the point. You know the importance of teamwork and we are here to teach your staff that importance.