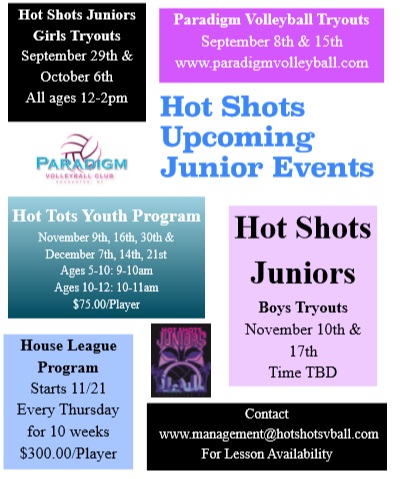 Hot Shots Juniors Tryout Info 2019/2020
It's that time if the year again. Time for our Hot Shots Juniors tryouts! We are excited to build on the success of the 2018-19 club season. You can now follow us on Instagram @hotshotsjuniors.
Our Club Director and Coach, Rich Newton brings a vast knowledge base and experience to our Hot Shots Juniors coaching staff. Rich brings 16 years of coaching experience to the program. He has coached both boys and girls at the high school and club level. He was most recently the Head Varsity Coach for West Irondequoit from 2010-2015. Rich has also participated in the USA High Performance programs throughout his coaching career.
2019-2020 Tryouts will be held at Hot Shots Indoor Volleyball Center
Hot Shots Indoor Volleyball Center
1046 University Ave
Rochester, NY 14607
All players must be members of WEVA before they take part in any tryout. To register for WEVA prior to tryouts, go to www.wevavolleyball.org, go to "GENERAL" and click on "REGISTRATION." Be sure to register your daughter under "Paradigm" when asked to choose a club.
Once again, all junior player's online WEVA registrations will be required to pay online with a credit card for this upcoming season. Please print your registration card from the website after you complete the registration and bring it to tryouts. Registration and Check-In begins 1 hour before the 1st tryout.
There is a $25.00 tryout fee per player. Please bring tryout payment to the first tryout.
*** UPDATE Tryout Dates:
Sunday, September 29th
12pm-2pm for all ages
***Update***
Sunday, October 6th (Team Selections)
12pm-2pm for all ages
Tryout registration starts 1 hour prior to tryouts. Players will need to fill out some paperwork prior to their tryout. Please bring the $25 tryout payment to the first tryout and make all checks out to PARADIGM VOLLEYBALL.
We are looking to offer teams in the age level of 12s - 18s. Teams will be formed according to the ages of all players that participate at tryouts.
We will have player packets available at tryouts for all parents that will include pricing, coaching staffs, and practice schedules.
All Tryouts will be held at Hot Shots Indoor Volleyball Center.
Hot Shots Indoor Volleyball Center
1046 University Ave
Rochester, NY 14607
Hot Shots Juniors
Volleyball Club
What is Hot Shots Juniors?
Hot Shots Juniors (HSJ) is a local volleyball club that will compete as a member club of Western Empire (WEVA) Region of USA Volleyball. The teams will play a regional tournament schedule, with an option to travel to one-two out of town tournaments.
Why is HSJ needed in this area?
HSJ was started, in conjunction with Paradigm Volleyball, to create a local travel club for players who do not want the extensive travel schedule, play other sports or want an affordable alternative.
What age groups will HSJ be offering this season?
HSJ will be looking to offer teams at the 12s, 14s, 15s, 16s, 17s and 18s age levels based on interest level.
What is the time commitment for HSJ?
HSJ will run December until April. Teams will practice for 2 hours on Sunday afternoons and Wednesday evenings at Hot Shots Indoor Volleyball Center.
How many tournaments will HSJ participate in?
HSJ will participate in 4-5 tournaments during the course of the winter and spring.
Hot Shots Juniors Financials
2019-2020
Individual Player Dues: $1,350.00
This will cover:
Facility costs
Uniforms and gear
Coaches Salaries
Administrative and miscellaneous costs
New Equipment
Payment Schedule:
Player Dues Payment plan
Week of 12/1 - $475.00 due
Week of 1/1 - $475.00 due
Week of 2/1 - $475.00 due
****All Checks should be made out to Hot Shots****
Hot Shots Juniors Philosophy
2019-2020
Hot Shots Juniors, in conjunction with Paradigm Volleyball, has been established to offer a local alternative to more extensive travel clubs in our area. We strive to construct a positive learning environment for athletes, while also providing a high level of on court volleyball training.
The training these young athletes will receive is designed not only to augment their skill sets, but also to promote the confidence of young women in themselves, their ability, and their teammates.
As our athletes strive for constant growth, so will our coaches. We will conspire for a collaborative coaching environment where all coaches will work together to establish similar coaching philosophies and techniques, while also maintaining an identity for their individual teams.
Communication between players, coaches and parents will be held in the highest regard. As in all youth sports, we ask that all members of HSJ work together for the common goal of allowing the players to play, the coaches to coach and the parents to parent.
As HSJ begins our 6th season, we take pride in our ability to increase the volleyball skills, physical capabilities and the mental attributes of the young women of HSJ. We look forward to creating successful athletes, students and members of our communities.